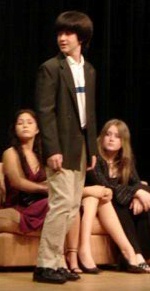 (First portrayed by Sean Drohan) David D. Diamond is the detective of the play and is also the producer. He is a young, healthy man of 46 who has lived and worked as a detective in New England his whole life and is dedicated to solve any crime that may come up. He fell in love with Diana and married her in August, 1945. He is considered by most to be an intelligent and dignified person, and is the best detective ever to live in New England. He currently resides in an unknown part of New England with his wife Diana.
Ad blocker interference detected!
Wikia is a free-to-use site that makes money from advertising. We have a modified experience for viewers using ad blockers

Wikia is not accessible if you've made further modifications. Remove the custom ad blocker rule(s) and the page will load as expected.